Top Message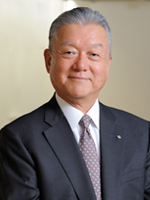 We restructured our business portfolio in FY2016 with the aim of transforming our Group into one capable of sustainable growth and resilient to economic uncertainty, and to be ready for major changes the future will bring. We will grow our corporate value by focusing investment in three core areas of growth: "Geospatial × ICT (information and communications technology)", "Climate change countermeasures" and 'Urban development', as a part of our strategy to achieve FY2020 financial goals.
We will expand and strengthen our range of climate change countermeasures. This will undoubtedly consist of clear mitigation measures, including expansion of our green energy business and initiatives to forestry activation, but also adaptation measures such as world-leading disaster risk reduction and prevention technologies. To reach our goals, we must build a new business model and find new customers and new revenue sources. Purely enhancing internal resources will be insufficient. We are steadily moving closer to our FY2020 goals, including the shifting away from current contract-based business model and also by internalizing new technologies and services through mergers and acquisitions to drive innovation. At the moment, we are promoting internal Group reform, streamlining of management divisions to optimize Group management efficiency and implement growth strategies, while reducing costs with business operations.
I firmly believe, that prioritizing the work, that benefits society, is key to achieving sustainable corporate growth in the long term. We will continue making sustainable strides in increasing economic, environmental, and social values through our work.
We thank you for your continuous support and look forward to even greater cooperation in the future.
Tetsuo Yamashita
Chairman and CEO of Japan Asia Group