Forestry Revitalization
Caring for the environment and mitigating climate change by bringing vitality and growth to regional forestry and timber industries
We launched a Forest Project Team within Japan Asia Group in 2016. We will maximize the synergistic impact of our core technologies and expertise – geospatial information, green energy, and financial – to showcase the hidden potential value of Japan's forests (two-thirds of the country) as well as to bring renewed vitality and growth to forestry and timber industries. This will help grow Japan's GDP, revitalize our regions, and create jobs.
Discovering forests
We own about 5,053 ha of forest in Japan. We are utilizing our geospatial information technology to solve forest and forestry issues.
Issues facing forestry in Japan
Aging of owners
Inheritance issues such as lack heir (successor)
Labor-intensive afforestation
Stagnant timber prices
Uncertainty of property boundaries and missing cadastral records
Inefficient (timber) production systems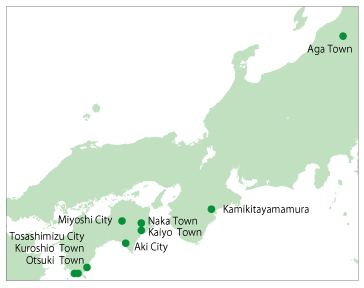 Improving forest values
We will transform the production of forests by increasing their value through the acquisition and agglomeration (for greater economies of scale) of forests, digitization of forest information, and development and analyzation of forest information.
Efforts to improve value
Timber volume measurement (laser surveying (remote sensing)
Boundary demarcation
Creation of 3D topographic data
Agglomeration of forests
Digitization of Forest information
"Smart" forestry
i-Forestry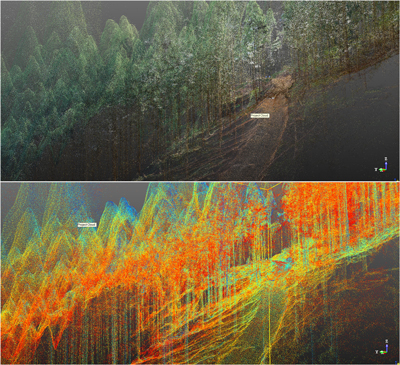 Click on each image to see the picture.
Creating a forest value chain
Our mission is to create a value chain with high added value to revitalize forestry in Japan. This will lead to the development of a stable supply system of domestic timber resources, as well as, to the development and expansion of forestry and timber related industries and regional forestry by creating and expanding new demands, and thus lead to environmental conservation and climate change mitigation.
Production activities • products • scheme
Continuous forest management
Timber production activities (thinning/regeneration cutting)
Timber milling, processing, and sales
Creation of forest funds and creation of carbon credits
Buying and selling of forests